The value proposition of 39 North is clear, unique, and in demand. 39 North aims to be the
agri-food tech/plant science hub that brings together people, resources, and facilities to grow
St. Louis' economy and global reputation.
OUR TEAM – Anchor Institutions
In 2023, seven institutions from the public/private sector announced their commitment as anchor institutions of 39 North to serve as strategic partners to the nonprofit responsible for elevating the innovation district to the next level of successful growth and economic impact.
Donald Danforth Plant Science Center
St. Louis Economic Development Partnership
City of Creve Coeur
CoverCress, Inc.
Bayer Crop Science
Benson Hill
Greater St. Louis, Inc.
EMILY LOHSE-BUSCH, EXECUTIVE DIRECTOR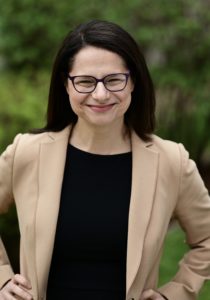 Emily Lohse-Busch is passionate about creating and sustaining organizations and programs that improve the human condition. In her role as Executive Director, she leads the effort to make
39 North a global epicenter for agri-food tech innovation.
Before coming to 39 North, Emily spent much of her career in a myriad of roles within the philanthropic and social sectors. Most recently, she served as an advisor and facilitator for organizations that are working to build and sustain a thriving economy and culture that benefits all St. Louisans. She developed a passion for innovation and the future of the St. Louis region while serving as the Executive Director at Arch Grants, an economic development organization whose mission is to attract and retain extraordinary entrepreneurs to help build the future economy in St. Louis. Before Arch Grants, Emily consulted for several years with national and international NGOs and nonprofit organizations in Chicago and in Washington D.C.
Emily is a proud alum of Washington University in St. Louis, and earned her MBA from DePaul University in Chicago.
Email Emily at emily@39northstl.org.
DISTRICT ASSETS
St. Louis' dynamic system of entrepreneur support organizations, venture capital firms, accelerators, and incubators serves as a magnet for talented scientists and entrepreneurs from across the globe. Business growth is sparked by several venture capital firms with a focus on agriculture research and technologies: BioGenerator, Cultivation Capital, Lewis & Clark AgriFood, Rabo AgriFinance, Tech Accel, and Yield Lab to name a few.
St. Louis delivers an impressive combination of connectivity to grower customers because the region is within a 500-mile radius of more than half of all U.S. agriculture production, including 80% of the nation's corn and soybeans. The National Corn Growers, American Soybean Association, United Soybean Board, U.S. Soybean Export Council, and other farmer-facing organizations are headquartered in the region and are committed to the district's success.
DONALD DANFORTH PLANT SCIENCE CENTER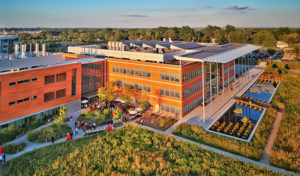 Founded in 1998, the Donald Danforth Plant Science Center is the world's largest nonprofit plant research institute, with a mission to improve the human condition through plant science. More than 400 employees from 30 countries seek to increase agricultural productivity to sustainably feed people today and nearly 10 billion people by the middle of the century and to do so with a lower environmental footprint. The Danforth Center is a unique organization that does fundamental research about how plants work – how they grow, how they capture the energy of the sun, and how they resist diseases. But we do not stop there: we find ways to translate that knowledge into useful crops and products that solve real problems.  Learn More.
BIO RESEARCH AND DEVELOPMENT GROWTH (BRDG) PARK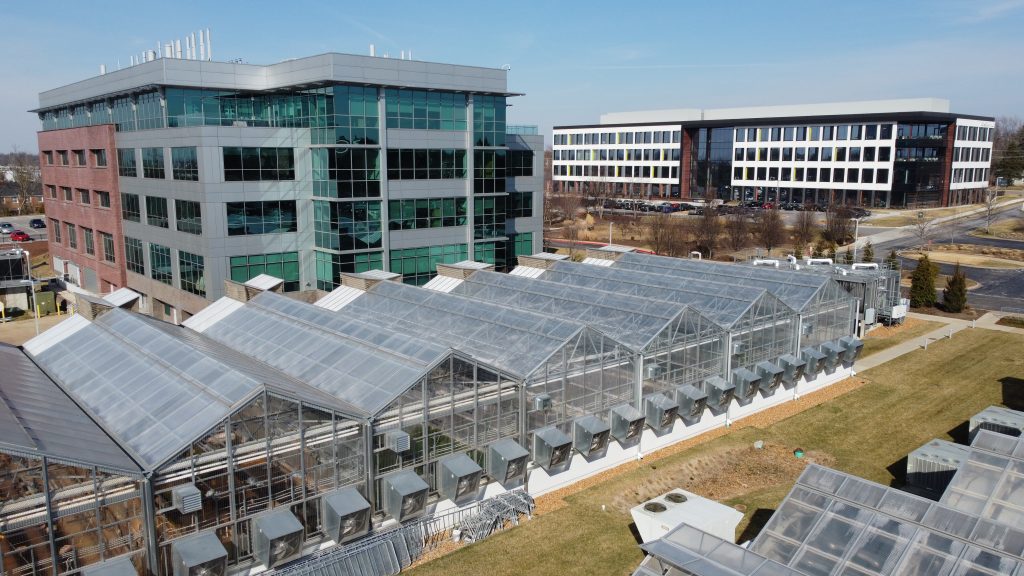 BRDG Park helps companies span the transition from innovative ideas to commercial success.  BRDG and EDGE@BRDG cover 270,000 square feet and serve as a vital resource to startups, mid-stage companies, international companies that have established their North American headquarters in our ecosystem, and an on-site workforce training, and equipment loan program. Companies have access to more than $50M in core technologies at the Danforth Center and interactions with some of the world's top scientists.  Learn More.
HELIX CENTER INCUBATOR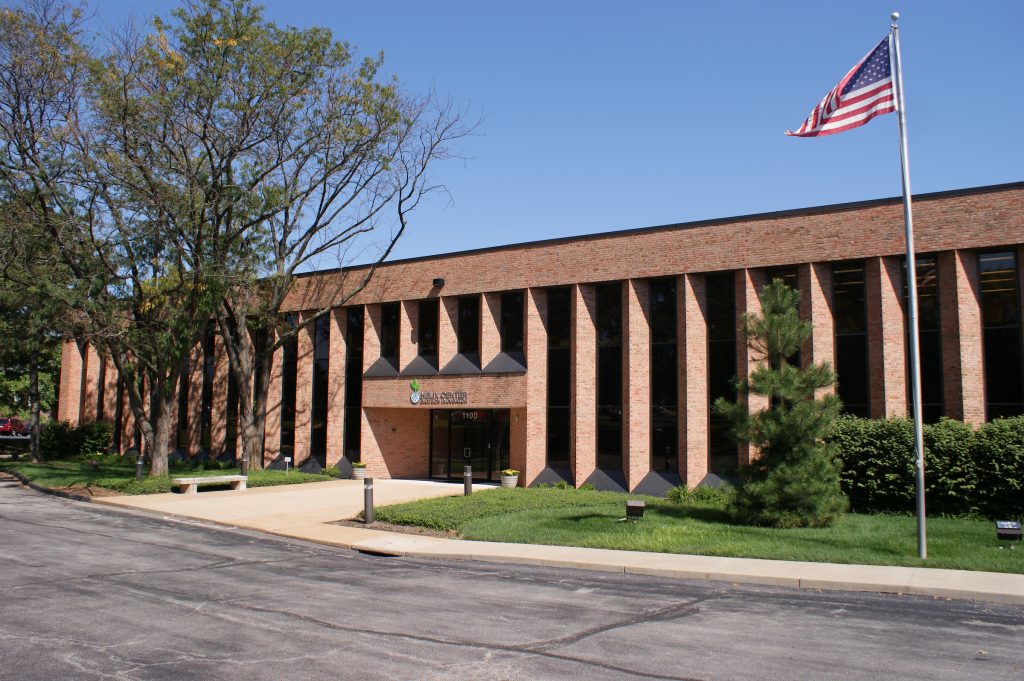 The Helix Center Biotech Incubator is the destination location for AgTech startups within 39N. Co-managed by the SLEDP and Biogenerator Labs, the Center gives clients access to affordable shared and private facilities, including both lab and office space. The collaborative setting provides the resources needed to accelerate the growth of your AgTech startup from early idea to launch. Shared equipment ranges from basic molecular biology equipment to laminar flow hoods, gene gun, and plant growth chambers. Locating inside the Helix Center means doing business alongside other AgTech and Plant Science entrepreneurs within a world-renowned cluster of AgTech businesses and research institutions. As a result, making the move to the Helix Center gives early-stage AgTech startups every advantage. According to a 2020 report by Alliance STL, the Helix Center has an annual economic impact of $25.5M on the St. Louis Region. For more information, contact: Mike Davies 314 304-7319.
39 NORTH MASTER PLAN – ENHANCE OUR ABILITY TO GROW AND ATTRACT TALENT
The 39 North Master Plan funded by a $500,000 grant from the U.S. Department of Commerce, presents a vision for an innovation district in St. Louis County that is uniquely positioned to advance the region's global leadership in plant and life sciences. The district will be geared toward lifestyle preferences often sought by highly-skilled employees, including mixed retail, residential, and office space connected by walking and biking trails and green space. Download the Master Plan
39 NORTH TASK FORCE
In 2022, a special task force was created to undertake a governance and strategic planning process to explore how best to leverage the assets and investments to create a greater impact in 39 North. This process showed that successful innovation districts have a purpose, offer value, and anchor institutions that are committed to their success.  In 2023 the Task Force's recommendation to establish 39 as a nonprofit entity with dedicated staff and a board of directors was implemented.
Task Force Members
Melanie Bernds, VP-Public Relations, Rabo AgriFinance
Jim Carrington PhD, President and CEO, Donald Danforth Plant Science Center
Rodney Crim, CEO and President, St. Louis Economic Development Partnership
Nikki Davis, Vice President of Operations, Climate LLC
Andy Dearing, President, Spatial STL Advisors
Mike DeCamp, CEO, CoverCress, Inc.
Phyllis Ellison, Associate Vice Chancellor Workforce Solutions Group, St. Louis Community College
Sam Fiorello, President and CEO, Cortex Innovation Community
Jason Hall, CEO, Greater St. Louis, Inc.
Ben Johnson, Vice President, Programs, BioSTL
Elliot Kellner, PhD, Director of Commercial Innovation, Danforth Plant Science Center
Matt Plummer, Vice President – AgriFood, Lewis & Clark Partners
Mark Perkins, City Administrator for the City of Creve Coeur
Stephanie Regagnon, Executive Director Innovation Partnerships, Danforth Plant Science Center
Karla Roeber, Vice President of Public & Government Affairs, Danforth Plant Science Center
Martha Schlicher, PhD, Executive in Residence at BioGenerator; CEO, Plastomics; CEO, Impetus Ag
Dave Tierney, Government Affairs, Bayer Crop Science
Janet Wilding, Assistant Vice Chancellor of Economic Development, University of Missouri-St. Louis