Millions of tiny threats – one powerful solution is the motto at NanoGuard Technologies. The powerful solution: patented sterilization technology to eradicate millions of harmful pathogens to bring clean, fresh food to your dining table.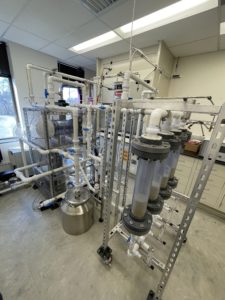 The history of NanoGuard began in West Lafayette, Indiana at Purdue University. The work through Purdue was creatively improved by St. Louis technology firm, Nidus Partners. "The base technology was not capable of supporting itself in a commercial sense," said Larry Clarke, CEO. "But after a few targeted approaches inspired by one of the Nidus Partner members, Bunge Limited, a new design focused on larger volume markets was created."
Early on, the work was conducted within Nidus Partners offices out of BRDG Park in 39 North, but after expanding with new employees and the need for more lab facilities, NanoGuard was relocated to the Helix Center in 2014.
NanoGuard has a goal to improve both human and animal safety while simultaneously reducing global food losses. High Voltage Atmospheric Cold Plasma (HVACP) pasteurizes the surface of food and animal feed to reduce microbial activity by greater than 99%. The technology also cuts toxin levels in half and reduces food loss.
NanoGuard says they are currently busy with the design and construction of a second-generation pilot, which should be completed by mid-2023. The company is also going through a feed trial to confirm that NanoGuard's treatment parameters and conditions effectively reduce mycotoxin concentrations in ground corn while simultaneously improving the feed conversion capability in animals, particularly poultry.
"We are also beginning a Series B funding round in the next few months that will take us from the lab to industrial applications," said Larry Clarke.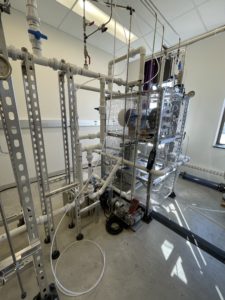 Most recently, two of NanoGuard's engineers, Jackson Cummings and Melissa McCann, met with former U.S. Ambassador to Ireland, Kevin O'Malley, during his tour of 39 North. "Jackson and Melissa were treating naturally contaminated (with aflatoxin) ground corn samples in our laboratory prototype system," Larry Clarke said. "They had a wonderful chat about the optimistic nature of NanoGuard's technology and its potential to positively impact the global food network."
To learn more about NanoGuard, visit their website here.