The Olive and Lindbergh interchange reconfiguration was one of the significant transformative projects identified in the master plan to achieve the bold vision of the 39 North Innovation District.
The former cloverleaf interchange was replaced with a folded diamond interchange in 2022.  The new folded diamond interchange more efficiently moves commuter traffic and eliminates a barrier for people wishing to easily access the amenities in the district. The project coupled with the Old Olive Street Road redesign into a "Great Street" will offer full connectivity for cars, bikes, and people.  In addition, the property formerly used for right-of-way can now be used for future economic development.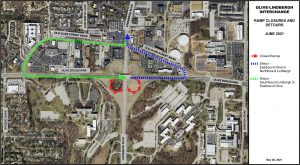 The project was funded by $4 million of federal transportation funding to design and construct the new interchange, a $1 million match from St. Louis County Transportation and $250,000 of funding from the City of Creve Coeur.
MODOT owns both roads and will continue to operate the new intersection.