With several recent successes under their belt, NewLeaf Symbiotics in BRDG Park is looking forward to an exciting year. In March, they were recognized among the world's leading agtech and foodtech innovators in Thrive AgriFood's annual Top 50 list. Their products are set to be on four million acres this year, quadrupling the one million acres they were on last year. And, even as their current products begin to achieve these kinds of milestones, their research to discover new, climate-friendly, agricultural advancements marches forward.
Promising Pink Microbes
Scientists at NewLeaf are working to resolve big questions with a microscopic answer. They are uncovering the potential of pink pigmented facultative methylotrophs (PPFMs), beneficial pink microbes that occur naturally on most plants around the world. PPFMs have already proven to have a wide range of benefits, from increasing crop yield to boosting pest resistance. "Initially, we thought that PPFMs were primarily beneficial as a biostimulant>" said NewLeaf CEO Steve Kahn, "What we've found over the years through testing and trials is that they have biocontrol advantages along with other benefits waiting to be discovered." 
Another current project is investigating methanotrophs, microbes that intake methane and convert it into biomass. The idea is to apply them to rice paddies, which are a hot spot for methane production. The weeds that die when rice paddies are flooded create methanogens, which are microbes that feed on the decaying organic matter and produce high levels of methane. By applying methanotrophs in these environments, NewLeaf aims to counter the methane that is created there, removing excess from the water before it makes its way into the atmosphere. Methane retains 25 times more heat per ton than CO2, so reducing the amount in the atmosphere is key to mitigating climate change.
What is especially exciting about the projects NewLeaf is working on is that the potential for solutions like these doesn't end with one specific application. "Methanogens are the cause of methane in many other places you hear about—landfills, wetlands, even cows' guts," Kahn said. "If the cause is a microbe, the solution is probably another microbe." 
Welcoming a New President: Brent Smith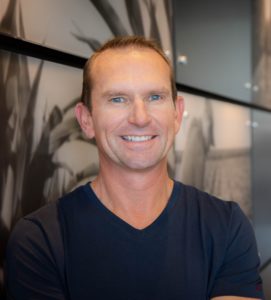 New projects like this one are not the only thing that's new at NewLeaf. By the end of next year, they expect that their products will be used on 15 million acres of farmland. By the end of this year, they are aiming to be certified organic on specialty crops. And they started the year off by welcoming a brand-new president, Brent Smith. 
Smith comes to NewLeaf with 30 years of experience in the agriculture industry. His experience has ranged from working at industry giants like Syngenta to being employee number four at a startup. Most recently, he spent 13 years working at Nutrien, where he led their proprietary products business and built and led their sustainability, innovation, and marketing teams. 
Last year, Smith decided he wanted to transition into working for a smaller company focused on biotech or sustainability. "It became clear to me that I wanted to pursue my passions, and I wanted to go somewhere that I could have the greatest impact," Smith said. He had several options, but NewLeaf was the one that made the most sense. "Their technology is sound. They have a very robust IP strategy. They have a great reputation in the space they are working in. And it is a competitive space, but they are one of only a few that I would consider top tier." Smith also said that NewLeaf's staff, board members, and investors were very welcoming and gave him a sense of a healthy, collaborative, and ambitious culture. "This feels right," Smith said. "I can bring new things to the table that will help accelerate growth. I know I can have an impact working alongside the team here."
NewLeaf is excited to welcome Smith to the team. "He is a superstar. That he chose to join our team reflects very positively on our company and what we are doing here," said Kahn.  "NewLeaf employees are highly motivated by the fact that we are doing good things for the world. The scope of what we are working on has broadened over the years, but the mission hasn't changed."
Learn More about NewLeaf Symbiotics