After retiring from Monsanto, Jeffrey Staub, founder and chief technology officer of Plastomics, couldn't stay away from his first "science love", chloroplast engineering technology. In 2016 Plastomics came to life with a mission to use plant chloroplasts to sustainably produce nutritious foods.
"I think i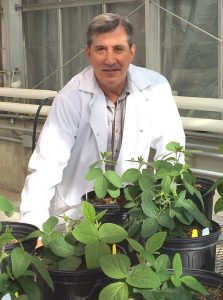 t's still a very important transformative technology with more relevance now than ever before in solving many of the issues that have emerged with nuclear technology," Staub said.
Located in the Helix Center in 39 North, Plastomics is focused on developing the chloroplast engineering platform technologies in corn and soybean. These crops are in desperate need of new technologies to meet the growing demand for new and better products to feed the growing population in a more sustainable way.
At the Helix Center, Plastomics uses shared equipment and plant tissue culture facilities to develop the chloroplast technology. "We have been a long-standing user of the Donald Danforth Plant Science Center plant growth facilities and greenhouses, and have had several fruitful collaborations with principal investigators and students there," Staub said.
Since 2016, the company has been moving forward in terms of growth and accomplishing goals. They have been showing the benefits of the chloroplast platform over nuclear transformation in corn and soybeans by creating potential commercial traits in both crops.
Just last year Plastomics secured $7.1 million in Series A financing. The funding helped the company grow from 6 to 16 people and has paid off in terms of getting the soybean platform developed and kick-starting its corn program.
"We have started to work with other companies that could lead to co-development projects. Longer term, we hope to work with multiple global AgBiotech companies to develop the first commercial chloroplast products in both corn and soybeans."
Plastomics has also been awarded a Small Business Innovation Research grant from the National Science Foundation and earned a spot in the Wells Fargo Innovation Incubator.  Learn more at plastomics.com